Learning through art enriches the experience of studying while at school as well as preparing students for life after school. Arts subjects encourage self-expression and creativity and can build confidence as well as a sense of individual identity. It improves a student's memory and critical thinking skills, enhances communication, listening skills and also social skills.
Hindavi Public School is always thinking about the whole development of students and it is possible only if we do it with the help of 'Arts'.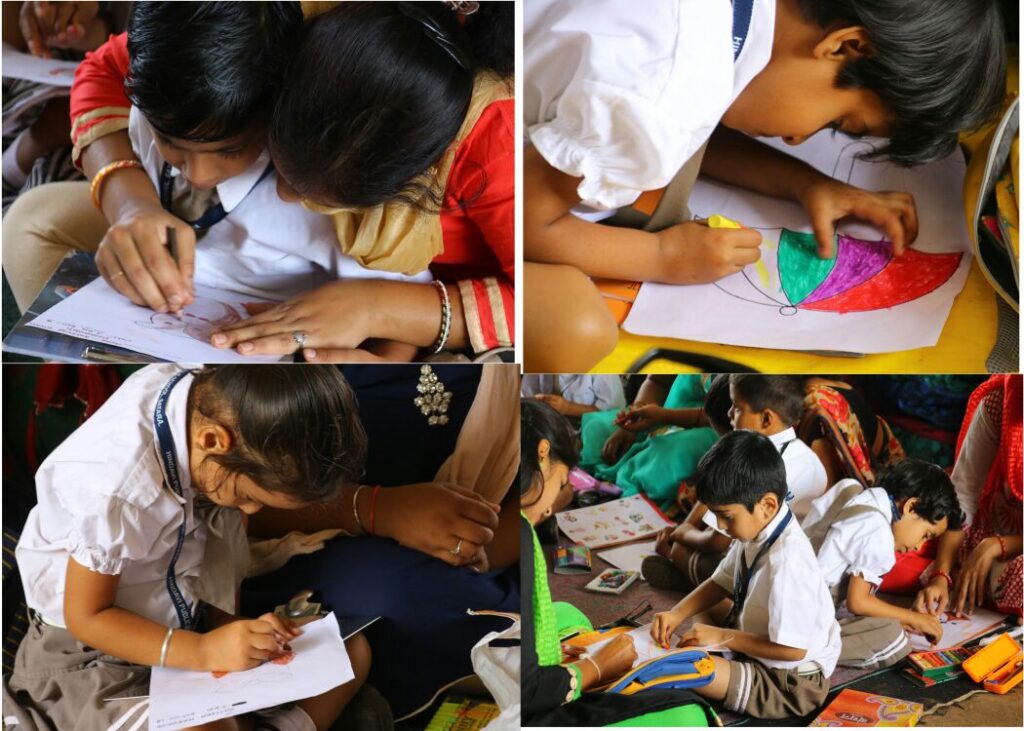 Since 2003, our school is conducting different activities related to arts with the help of studies. Firstly, it starts with the Drawing subject. This subject is compulsory from Nursery to std 10. The drawing teacher gives the subject to the students by the classes they are learning in. Teachers use the same concept in the exams. Our drawing teachers take the extra practice of students who are going to appear for elementary and intermediate exams.


Primary students are showing their skills by learning crafts. It starts from making a simple paper boat, a plane, a lantern to big models such as statues of Ganesh. Rather than study, students show their skills through different activities. In assembly, students show Roleplay, news reading, GK questions and giving orders, through these students their stage daring, dialogue, speaking skills, pronunciation of English words. Students make different crafts at different festivals.
In the Ganesh festival, students make clay statues of Ganesh in Diwali festival students make a lantern, in Raksha Bandhan festival all girls from every class tie Rakhi on the hands of boys from all classes and that all Rakhis are made by all students.
In the Ganesh festival, teachers organize some competitions such as rangoli, flower decoration, through these activities students show their creativity and confidence.
Pre-primary students take part in fancy dress competitions and show their stage daring, speaking skills, share knowledge about culture and confidence. At the time of 'Annual Day' students show their acting, singing, dance, musical instruments and our school students always do anchoring of the whole program. At the time of 'Science Day' students make the models of different science experiments also prepare their speech related to that content.
In this way, each student in our school takes part in every task confidently.
Teachers always take part in different activities to encourage every student. In different festival celebrations, teachers draw Rangolis on school grounds, due to this students also get inspiration. Teachers do different decorations such as-to make tricolor flowers of paper at the time of the national festival, to make a lantern, students also make the lantern.
Before Raksha Bandhan, our craft teacher teaches every student how to make a rakhi with the help of waste material.
In the celebration of 'Yoga Day' and 'Children's Day' all teachers perform some skits in front of all students to encourage them.
While teaching any subject in the classroom, the teacher draws different diagrams on the board related to content and students also try to draw it.
In this way, our teachers are taking lots of efforts to encourage the students to develop different art skills through education and also with culture.
In our school, we take various activities for parents, because parents are the family of our school. Schools respect parent's views, ideas and suggestions. Hindavi arranges various competitions for parents like Rangoli competition, Recipe competition, mother and child drawing competition, in sports week some parents take part in games such as Kho-Kho, Kabaddi, Running, Cricket. In Woman's day celebration lady parents set some performances such as dance, powada, poetry, ramp walk, dialogue and singing.
Through these activities, parents show their different skills like their child and also encourage all children and of course to each and Hindavian.
All parents of our school always give support to us, so it's teamwork which is incomplete without parents' support.